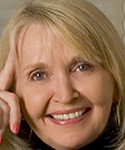 Dr. Linda Moore is a Kansas City based psychologist, executive coach,  author, speaker and management consultant. She is President of Linda L. Moore & Associates, and the co-founder and former President of CenterPoint, an out-patient counseling center. She currently holds a distinguished faculty fellow appointment at Park University. Dr. Moore consults and speaks nationally and internationally and is known for her work with women, leadership training, executive coaching, stress management, and human relations.
Dr. Moore is the author of a book on power, Release from Powerlessness: A Guide for Taking Charge of Your Life (Kendall/Hunt – Second Edition) and is featured in a partial video adaptation of the book, Taking Charge of Your Life. She is working on a second book on the psychology of women, as well as her first novel. Her daily educational/psychology talk show was aired on KNHN radio, the former Kansas City affiliate of CNN News.
She has been a consultant and facilitator for the Phoenix based National Institute for Leadership Development for 25 years and currently facilitates a yearly leadership training series for the Central Exchange. Additionally, she regularly conducts leadership training for national and international organizations such as DST Systems, Young Presidents Organization, National Institute for Leadership Development, Hallmark Cards, Inc., Helzberg Jewelry, University of Missouri Dental and Medical Schools, Truman Medical Center, University of Kansas, American Dental Hygienists Association, Junior League, First National Bank of KC and The Federal Executive Boards of Missouri, Colorado and Iowa.
Prior to her present activities, Dr. Moore was the Contributing Editor on psychological issues for KMBC TV 9 News; Co-Hostess and Producer of "Let's Talk", an educational TV talk show; the Associate Director of the University of Missouri – Kansas City Counseling Center; Assistant Professor of Counselor Education at UMKC; Professor at the Federal Executive Institute in Charlottesville, Virginia; a Management Consultant with a Boston firm; and a Counselor at the University of Virginia.
Dr. Moore received her doctorate from the University of Virginia. She is a member of the American Psychological Association and the Division of Media Psychology. She is an originating member of the Central Exchange; a founding member of the Metropolitan Organization for Countering Sexual Assault (MOCSA); a member of the Advisory Board of the Women's Foundation of Kansas City as well as a co-founder of the Spirituality Field of Interest Fund; a board member for UMKC's Women's Center; and the UMKC Community Counseling Center.