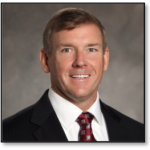 John has been leading successful organizations and developing leaders for over 30 years.  He holds a Master of Arts in Leadership Development from the US Military Academy at West Point, a Master of Arts in Strategy Studies from the US Army War College, and a Bachelor of Science from the US Military Academy where he was a distinguished graduate in the top 5% of his class.  John's leadership in key positions within organizations ranging from 30 to 180,000 people was marked by courage and a commitment to excellence in performance and character.
John has combat experience at every level and was the operational Chief of Staff during the surge in Iraq in 2007-2008.  He has a wealth of leader development experience including service as a company tactical officer at West Point where he mentored cadets in their pre-commissioning training and as a trainer for the Army's highest level combat training program where he coached hundreds of senior leaders.  John served as an instructor in the Army's premier School for Command Preparation where he prepared Colonels for combat commands and was subsequently selected to serve as the School's Director.
John's service at the Army's major training command as the Assistant Chief of Staff provided him important experience with the corporate level Army including strategic communications, marketing, resource allocation, organizational design, entrepreneurship, and change management.
As the Defense Coordinating Officer for FEMA Region VII he gained tremendous insight into civil-military relationships as well as the cultures of other government, non-government, and civilian business and non-profit organizations.  John implemented a wide range of post-Katrina improvements that became the model for the military response in support of FEMA.  Upon retiring from the Army John joined the LGL Leadership team where he is an acknowledged expert and highly sought after speaker and consultant in strategic planning, strategic communications, change management, and executive level leadership coaching.  He also provides keynote presentations on building character and trust.
From a depth of strong values, courageous authenticity and heart, John represents LeadersCore on projects for the highest leadership levels, getting to the core of their strengths and opportunities for growth, helping them to engage others while executing strategy and operational excellence.